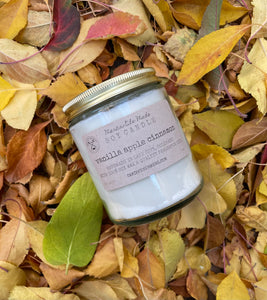 Vanilla Apple Cinnamon 
Oh man!! You can't go wrong with this classic holiday scent. It's a comforting mix of coconut, lemon, lime, apple, cinnamon, and clove. It also has base notes of ylang ylang, sugar, and creamy vanilla. This fragrance is AMAZING! 
Hand-Poured in Lake City, CO
100% pure soy wax
quality fragrance oil specially formulated for candles and soaps
lead free wick
custom labeling 
9 oz cLear straight sided glass jar with gold threaded screw cap.